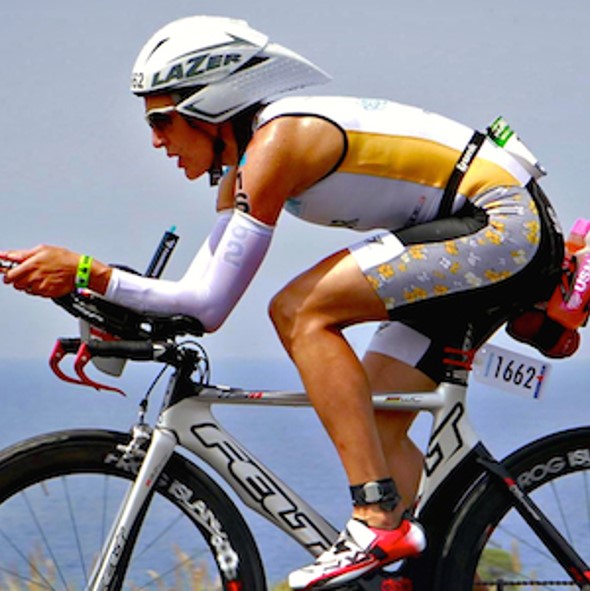 "Since working with Martin I have enjoyed my most successful triathlon ever, setting significant personal best Ironman, Half Ironman and Marathon times. This has been possible due to the positive weight, compositional and all round health benefits from Martin's eating plan. The changes I have made have resulted in uninterrupted training, the absence of niggling illness and injuries that would usually accompany my high training load. I have enjoyed better recovery and therefore am getting more from the 2-3 sessions a day I am completing.
My personalised plan includes an eating plan, post training recovery strategies and phased and specific supplementation. In competitive Ironman racing nutrition has
often be referred to as the 'fourth discipline', a challenge that Martin has approached with meticulous attention to detail, quickly familiarising himself in aero hydration systems, fuel belts and other associated long course triathlon
paraphernalia!
Before working with Martin I probably typified a lot of long course triathletes – fat phobic, carb junkie, over trained and under eating! Now, at 34 years old, I am lighter, leaner and healthier and consequently am enjoying the form of my life, culminating in a 54 minute personal best performance over the Ironman distance of 10:35:19.
If you are serious about performance and nutrition you need to work with
Martin"
2011 Results
1st : Dark and White Mountain Bike Trailquest Series, Peak District (Female Pairs)
2nd : Open 5 Adventure Race (Mixed Pairs)
6th : Leicestershire County Cross Country Championships
8th : Roding Valley Half Marathon
11th : Ashby 20
14th : Brighton Marathon
4th : Belvoir Half Ironman
6th : British National Age Group Triathlon Championships
30th : (7th in Age Group) Challenge Roth Ironman, Germany – 10:35:19 (PB)
1st : Eidfjord Sprint Triathlon, Norway
2012 Results
2nd : Roding Valley Half Marathon (PB)
1st : Mallory Park Sprint Triathlon
1st : Stanwick Lakes Half Marathon
14th : Edinburgh Marathon (PB)
10th : British Elite Duathlon Championships
1st : AG at World Age Group Championships Qualifier, Dambuster Triathlon
1st : Day in the Lakes Middle Distance Triathlon
1st : Bude Triathlon
2nd : Blithfield Triathlon
16th : Inferno Triathlon, Switzerland
1st : Challenge Henley Half Middle Distance Triathlon
Claire Shea-Simonds (Ironman/Triathlete)