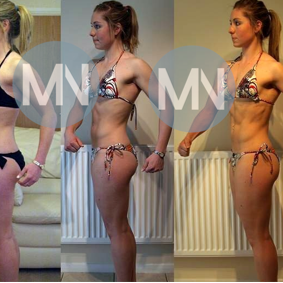 "In the early months of 2010 I decided that I wanted to get involved in Natural Bodybuilding and Figure Competitions, with the ambition to compete; I had been interested in female bodybuilding for many years but never had the confidence or knowledge in dieting to act upon. Fortunately I knew a couple of performance athletes who had already worked with Martin, highly recommending his nutritional & diet support, saying the advice was practical, individualised, helpful & friendly.
After my initial consultation, all of my questions and concerns had been answered and I instantly felt confident and somewhat excited about the changes that were to come over the following months.
I was provided with an individualised nutritional diet plan to assist my training needs- influencing strength gains, whilst getting leaner. The nutrition plan was very easy to follow, containing foods that I enjoyed and clearly stating exactly what to eat and when to eat it. Over the months, the team made the necessary adjustments to the nutrition plan, educating me along the way, and despite being on a 'diet', I never felt hungry!
I had monthly progress review meetings with Martin, which showed that although my body weight was not greatly changing- my body fat percentage and skin fold results were steadily going down, whilst lean muscle mass and strength was increasing! On top of that, even at the very end of the diet, being close to competition standards, I had loads of energy and generally felt great- the complete opposite to how I'd imagined!
Thanks to Martin, I have seen the most incredible changes to my physique and training performance, which would never have been possible if I hadn't received his help and advice. Although I have not yet competed in a Bodybuilding or Fitness Competition, the 'run-through' with his consistent guidance this has given me the knowledge to confidently and safely continue to control my own diet for training/competition needs and lead a healthier lifestyle in general.
I trust Martin implicitly from the results that I have achieved and I would recommend his services to anyone who is looking for help or advice from a professional nutritionist."
Francesca Dubras (Physique Competitor)