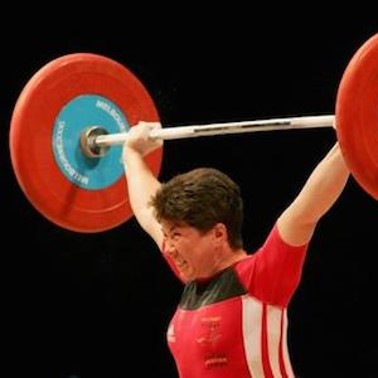 "Nutrition: Where do I start?!?
My name Is Natasha Perdue, I'm an Olympic weightlifter.
I have a weight category of 69kg but didn't have a problem with getting to my weight or even maintaining it so I didn't feel the need to have a nutritionist, but then I stumbled across Martin and Mac-Nutrition. I sat down with Martin for a chat and he explained a few things. At this point, I was still a bit skeptical but if food could improve your performance by only 1%, isn't it worth a go?! Of course immediately I thought let's give it a go …and low and behold, it works!
Benefits:
 My totals have gone up in competitions which is the most important factor.
I feel full of energy all the time.
My recovery  is much better so I can train harder.
I'm never hungry – which is great!
My weight has come down …and even better it is body fat that I have lost – how great is that! Which now leaves me in a great  position.
I'm well within my weight category – so I now have room to put on muscle, which will obviously make me stronger… I'm looking forward to Martin getting me in good shape for the 2012 Olympic Games.
I could not believe how important food is and the difference it makes. But I have found everyone at Mac-Nutrition really easy to work with, where food plans are adapted to the foods you like. Martin will guide you through the whole process and explain everything thoroughly."  
Natasha Perdue (GB Weightlifter)